THE voice of the people is the voice of God.
President Mnangagwa will now see through his vision of creating a prosperous upper middle-income economy after he secured the mandate for a second term.
Announcing results of this year's harmonised elections in Harare yesterday, Zimbabwe Electoral Commission (ZEC) chairperson Justice Priscilla Chingumba said President Mnangagwa garnered 52,6 percent of the vote against CCC candidate Mr Nelson Chamisa, who had 44 percent.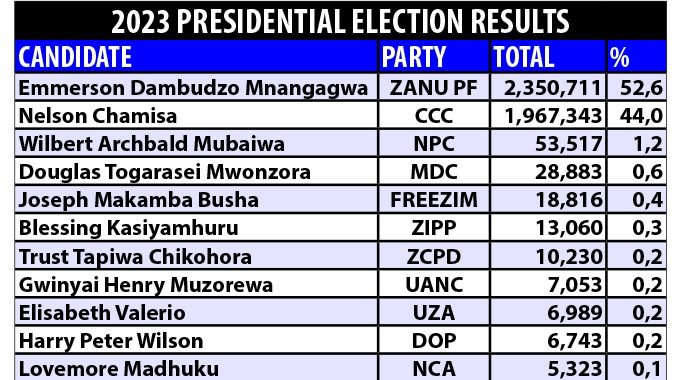 The President, who got 2 350 711 votes against 1 967 343 from his closest rival, extended his winning margin from the 50,8 percent polled in 2018. The total votes cast were 4 561 221, representing a voter turnout of 68,9 percent.
Speaking to journalists after declaration of the election results Justice, Legal and Parliamentary Affairs Minister Ziyambi Ziyambi, who is the President-elect's election agent, said people-centric policies had won the day for the ruling party.
"We want to thank the people of Zimbabwe for putting their trust in the President, Cde E.D. Mnangagwa. Since he became President in 2018, he has brought a lot of development to the country. His mantra was that as Zimbabwe, let us build our country, nyika inovakwa nevene vayo," he said.
"For the first time since Independence, he told us that let us forget about written manifestos; our works are our manifestos. We believe that this is a very happy day where the people of Zimbabwe voted wisely. He went around the country and he was urging people to vote for Zanu-PF. We believe that this is the people's victory. We are extremely happy about what happened."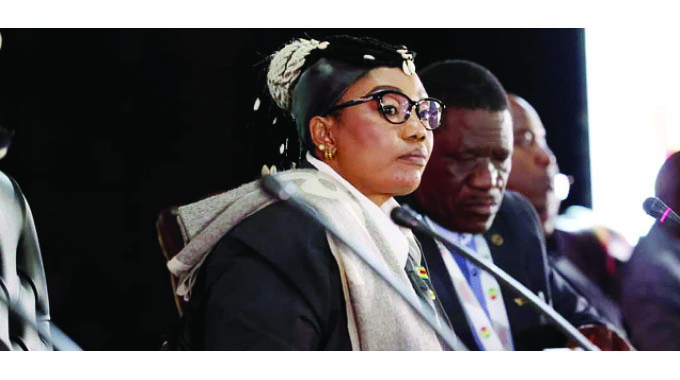 Justice Priscilla Chigumba flanked by ZEC's Chief Elections Officer Utoile Silaigwana announces the results of the Presidential election in Harare last night
Zanu-PF also won an absolute majority of 136 of the 210 seats in the National Assembly, while CCC managed 73. It means the party will constitute the bulk of the 60 senators that make up the August House, including the women (60) and youth quotas (10), which are determined by proportional representation.
One seat in Gutu West remains vacant after elections were postponed due to the death of one of the nominated candidates, Mr Christopher Mutonhori Rwodzi. Zanu-PF consolidated its support in its strongholds, while it also ate into some of the urban constituencies.
In Harare, it secured four seats, three more than in 2018. It also had a clean sweep in Mashonaland Central, where it won all 18 seats by overwhelming margins. However, the opposition CCC won all the 12 seats in Bulawayo after Zanu-PF lost Bulawayo South.
In Masvingo, the ruling party bagged 23 of the 25 contested seats, while in Mashonaland West, it attained 16 compared to the opposition's six. In the Midlands, Zanu-PF had 23, compared to CCC's five.
Matabeleland North saw the CCC winning nine seats, while Zanu-PF got four. In Matabeleland South, Zanu-PF won eight seats, with four going to the CCC, while in Mashonaland East, the ruling party got 19 seats to the opposition's four.
In Manicaland, Zanu-PF scooped 21 seats against five that went to CCC. This year's elections were held in a peaceful environment.
Zanu-PF had begun celebrating its victory by yesterday. Congratulatory messages had begun flooding social media platforms after the announcement of President Mnangagwa and Zanu-PFs victory. Prior to the announcement of the results, African National Congress secretary-general Cde Fikile Mbalula posted a message on X (formerly Twitter) saying Zanu- PF had "strong support on the ground".
Sunday News